Jessica Pfohl Paisley
President
PS Styling
Dubuque, IA
www.psstyling.com
563-580-9772
[email protected]
Jessica Pfohl Paisley is a Style Professional, creating opportunities of empowerment for her clients through image and style through her business, PS Styling. Jessica is involved in local community organizations, partnering to empower those in need is an important part of her business and personal mission.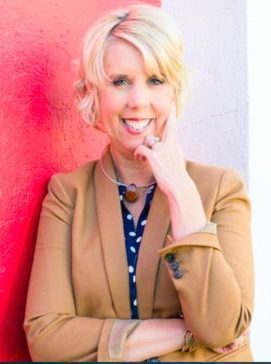 Beth Divine, AICI CIC
Immediate Past President
Beth Divine Style
Indianapolis, IN
www.bethdivinestyle.com
317.416.2782
[email protected]
Beth Divine is a fashion stylist who trained with the School of Style's Stylist Certification and Men's Wear (NYC) and Personal Styling programs based in L.A. She completed image consulting and makeup artistry as well. She is frequently hired by individuals and corporate entities to improve image, build and create wardrobes that flatter and create a presence.
Roxanne Carne
Secretary
Roxanne Carne | Personal Stylist
Dallas, TX
www.roxannecarne.com
855-877-8953
[email protected]
Hollywood-trained Personal Stylist & Shopper transforming women's wardrobes and their lives! Offering clients an unmatched experience as they rediscover their personal style. Signature style packages include Closet Edits, One-on-One Shopping, and white-glove Personal Shopping services. Recognized as the "Best Of" & featured on ABC, FOX, CBS, Wearables Magazine, and more!
Bethany Siggins, CIC
Treasurer
Bethany Siggins Image Consulting
Dallas, TX
www.bethanysiggins.com
469.363.0193
[email protected]
Bethany connects the dots between your style and fashion, helping you craft an image you are excited to show the world. Bethany makes it fun. You never dread shopping or going into your closet with Bethany's assistance. You understand yourself better, which leads you to an authentic style you love.
Edwards Buice
VP Marketing
David Edwards Clothier
Chicago, IL
davidedwardsclothier.com
872.588.5913
[email protected]
David Edwards Clothier specializes in curating and selling collections (limited edition) from unique international design houses (Guatemala, Hong Kong, Italy, Mexico, Switzerland). The Designers have been engaged down to the smallest detail producing their current collections and are obsessed with artisanship and design.
Yvonne Henderson-Decker
VP Membership
The Signature Image
Cherry Valley, IL
www.thesignatureimage.net
224.715.1888
[email protected]
We help executives, entrepreneurs, and business owners get the respect they deserve in the marketplace. We teach clients how to show up powerfully, communicate effectively, and understand the hidden business code so they can achieve their next level of success.
Sheila A. Anderson
Image Power Play
Sioux Falls, SD
www.imagepowerplay.com
605-310-7166
[email protected]
Sheila is an international branding icon, image consultant, author, and speaker. Coming from the world of professional modeling and corporate branding, Sheila draws from over two decades of experience helping executives create an iconic brand so they look and feel confident wherever they are. Experience the power Return on Image®!
Genelle Beyer
ImaGen Services
Milwaukee, WI
www.ImaGenConsultingServices.com
262.309.0125
[email protected]
Genelle Beyer is an Image Consultant and founder of ImaGen Services, specializing in enhancing her clients' personal and professional image, using the core areas of Personality, Style, Closet and Color Analysis, Personal Shopping, Closet Capsuling, and First Impression Management. Genelle is also a trained Bra Fit Specialist and Personal Stylist at Nordstrom Milwaukee.
Jill Bremer, AICI CIP
The Edge Executive Coaching & Training
Lombard, IL
www.theedgeexecutivecoaching.com
708.848.5945
[email protected]
Looking for a way to increase your impact and effectiveness? You can get "the edge you need to succeed" through my Executive Presence workshops and coaching programs. Learn how to:
— Communicate clearly
— Deliver knock-out presentations
— Dress to influence
Since 1986, The Edge has been offering training and coaching that gets results!
Jill Dellert-Herbert, AICI CIP
Vision with Style
Winfield, IL
www.visionwithstyle.com
312.543.2579
[email protected]
Vision with Style is a personal consultancy firm helping people find harmony between their inner being and outer appearance creating the essence of genuine and holistic beauty and wellness. Jill Dellert-Herbert, certified optician and image consultant, brings a high level of expertise to her clients by analyzing personal color, style, fit, facial shape, and lifestyle needs to help pinpoint the best wardrobe options.
Kelly Duggan, AICI CIC
KELLYDUGGAN Image Consulting, LLC
Kalamazoo, MI
www.kellyduggan.com
269.873.1598
[email protected]
Kelly has been helping executives and their organizations make their best impression since 1999. KDIC services include consulting, coaching, speaking and J.Hilburn Menswear. Kelly is a past president of the AICI Chicago Midwest Chapter and serves on the Image & Disability committee for Image Impact International (III).
Pat Gibson
The Artistry of You, LLC
Strongsville, OH
www.theartistryofyou.com
440.212.2269
[email protected]
Pat is an experienced image consultant, stylist, speaker & founder of the Artistry of You, LLC, Pat's approach to image enhancement, from the visual aspects of color, style & wardrobe planning, to inner skills such as confidence, communication and leadership, give clients the skills they need to launch forward both personally and professionally.
Julie Maeder, AICI CIC
New Leaf Image Consulting
Macomb, MI
www.newleafimageconsulting.com
248.499.9369
[email protected]
Personal image consultant, author and speaker, Julie Maeder helps her clients reflect their true selves outwardly. She specializes in style analysis and wardrobe management with the purpose of making every day more joyful and fulfilling. Her co-authored book, Inspired Style, provides strategies for always looking and feeling your best.
Nancy Nix-Rice, AICI CIP
Nancy Nix-Rice Wardrobe Consulting
St. Louis, MO
https://www.nancynixrice.com
314.803.4445
[email protected]
Veteran wardrobe consultant focused on color analysis and wardrobe development for women 40+.  Speaker, trainer, small-group virtual "Stye School" class series.  Author of the image classic "LOOKING GOOD … Every Day".
Becky Rupiper-Greene, AICI CIC
Tero International, Inc.
Omaha, NE
www.tero.com
402.968.0403
[email protected]
Becky Rupiper-Greene is a Training and Image Consultant with Tero International. For over 20 years she has trained corporate employees, college students, and politicians in the art of perception management. Becky is a graduate of the Fashion & Art Institute of Dallas and is certified through the London Image Institute.
Elaine Stoltz, AICI CIM
Stoltz Image Consulting and Institute
Fort Worth, Texas
www.stoltzimage.com
817-924-9300
[email protected]
Founded in 1989, Stoltz Image Consulting specializes in personal first impression. Services include custom color analysis, body style analysis, cosmetic makeover and styling outfits. Stoltz Image Cosmetics is Elaine's own private label brand. At Stoltz Image Institute, Elaine Stoltz teaches personal visual appearance specializing in "teaching consultants to see color."
Dawn Stebbing, AICI CIC
Dawn Stebbing, LLC
Vadnais Heights, MN
www.dawnstebbing.com
651.307.0342
[email protected]
As a leading executive presence expert, speaker, author, and image consultant in Minnesota, Dawn knows that being perceived as leadership material is essential to being promoted into leadership positions. Dawn is dedicated to improving personal credibility and overall influence, both personally and professionally.
Jill Swanson
Simply Beautiful Image Consulting
Rochester, MN
www.jillswanson.com
507.250.2030
[email protected]
Image Coach, Author, Speaker – Specializes in helping women make the most of what they've got, effortlessly, every day. Closet/Wardrobing services, Shopping (on any budget), Color and Style Consultations. Author of books: Simply Beautiful and Out the Door in 15 Minutes. National Speaker for events, businesses and women's organizations.
Anna Soo Wildermuth, AICI CIM ACC
Personal Images, Inc.
Elmhurst, IL
www.personalimagesinc.com, www.annaexecutivecoach.com
630.530.9440
[email protected]
Anna is an internationally recognized speaker, executive coach, image and corporate consultant. AICI Certified Image Master, ICF ACC, The Platinum Rule and Marshall Goldsmith Stakeholder Centered Coaching® certified coach/trainer. Clients are Fortune 500 companies. She partners with senior leaders on critical Executive Presence and Leadership Skills for over twenty years.