POSTPONED UNTIL JANUARY 2022 – NEW DATE ANNOUNCED SOON!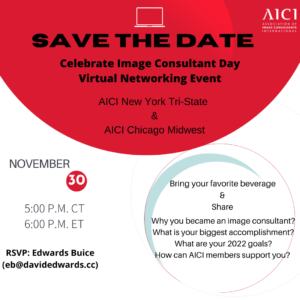 Celebrate "Image Consultant Day" with AICI New York Tri-State on November 30 (5:00 P.M. CT/6:00 P.M. ET).  Latrice Monique (AICI New York Tri State) and Edwards Buice (AICI Chicago Midwest) are going to co-host a fun and interactive networking event between the chapters.
You'll have the opportunity meet AICI New York Tri State members in breakout rooms (six max) and have a conversation about the following:
• fashion and image consulting journeys
• fashion styles in our chapters' region
• 2021 wins
• 2022 goals
• how can we can support them vice versus
To attend, please email Edwards Buice at [email protected].
Grab your favorite beverage and let's meet, get to know, and build supportive relationships with the members of AICI New York Tri State!
Image Consulting in the Time of COVID
September 28, 2021
Chicago Chapter Conference Catch-Up & Cocktails
June 16th, 2021
Second Thursdays Business Builders – "Where/When/How Should I Market my Business?"
May 13, 2021
Second Thursdays Business Builders – "Finding New Clients"
March 11, 2021
AICI Chicago Midwest Conversations: "COVID-19 Era Professional and Personal Etiquette"
February 26, 2021
"Website Style that SELLS" with Pauline Wiles
January 28, 2021
Second Thursdays Business Builders – "Should I add product lines? Specialize or do it all?"
January 14, 2021
Chicago Regional Conference – "Methods & Magic of Image Mastery" with Elaine Stoltz, AICI CIM
June 27-28, 2020

Webinar Series – "The Power of Partnerships" with Jessica Pfohl Paisley
February 5 & 12, 2020
Part 1: Leveraging the Power of Community Partnerships; Part 2: Step by Step: Proven Framework for Profitable Fashion Events
Chicago Chapter Book Club – "Fashionopolis – The Price of Fast Fashion and the Future of Clothes" by Dana Thomas
January 22, 2020
Virgil Abloh: "Figures of Speech" 
August 25, 2019
Museum of Contemporary Art, Chicago, IL
Chapter Dinner
April 5, 2019
Pescatore Palace, Franklin Park, IL
Webinar – "The Foundations of Style" with Genelle Beyer
March 7, 2019
Webinar – AICI New Members & Prospective Members
December 12, 2018
"The Closet Connection" at Inspired Closets – Joint program of AICI and NAPO
November 9, 2018
Oakbrook Terrace, IL 
Education Weekend – "Authentic Image – Going Beyond Style" with Karen Brunger, AICI CIP
April 27-28, 2018
Chicago, IL
Webinar – "Online Tools to Grow Your Business" with Ann Reinten, AICI CIP
January 23, 2018
"Eyewear Extravaganza" – State Optical Factory Tour & Eyewear Trends with Jill Dellert-Herbert, ABOC, AICI CIP
October 27, 2017
Vernon Hills, IL
Webinar – "5 Simple Steps to Achieving Career Success" with Brenda Kinsel, AICI CIP
January 24, 2017
Mario Pinto Boutique & "Making Mainbocher: The First American Couturier" exhibit
October 21-22, 2016
Chicago, IL
Webinar – "The Savvy Style Pros Guide to Smooth Client Experiences" with Sola Adelowo
September 12, 2016
Education Day – "Executive Presence" with Diane Craig
March 11, 2016
Chicago, IL
Webinar – "The Happy Hour Effect" with Kristen Brown
January 19, 2016
Webinar – "Creating Videos & Live Streaming" with Janet Johnson
November 17, 2015
Education Day – "The Art of Authentic Dressing" with Sue Donnelly, AICI CIP
March 20, 2015
Chicago, IL
Education Day – "Brand & Marketing Breakthroughs to Attract More Clients" with Sarah Hathorn, AICI CIM
May 17, 2014
Chicago, IL